Pornstar Info
Scenes with Dakota James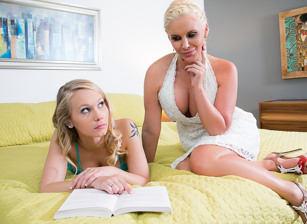 Date added:
2014-09-13
Comments:
5
Description :
After last time we met up with Dakota James and her step mom Phoenix Marie, we knew Halle was well on her way with her boyfriend. The three had a little anal sex lesson to prevent pregnancy. Well, turns out the experienced step mom doesn't see her becoming the passionate young lady she was hoping after their threesome and tries to clear the air, reaffirming that Dakota knows she can come to Phoenix with any problem, or any questions she has about sex in general.

I guess Dakota was a bit overwhelmed when Phoenix whipped out the butt plugs, but in the end her stepdaughter was looking for something a little more her speed. The drummer in Halle's guy's band might have a thing for Dakota. Phoenix stops that in it's tracks by pointing out that women know better what other women want, let alone being less smelly and more soft. Dakota wants something a bit softer, so helps her find her sweet teen sexual touch.

They start off horny, but the teen's initial aggression proves she's not ready for what's planned. Phoenix slows her down, taking the young ladies beautiful puffy nipples into her warm mouth. Before long Phoenix is showing her stepdaughter how to caress, and tease a girl, and how intense her orgasm can be if she takes the effort to start out slow and work gradually to an extremely intense sensual orgasm.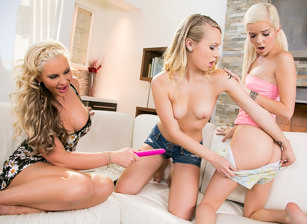 Date added:
2014-08-23
Comments:
14
Description :
Halle Von is worried she is pregnant. She's freaking out and needs a friend. Dakota James is on this shit, she jumps in the SUV to go help her friend in crisis. They go to get a test, clearly a turning point in Halle's life. They take the test to the desert and try to get an answer.

Close calls require a new plan. All that's on Halle's mind is how to protect herself. Phoenix Marie, Dakota's step mom finds Halle's test, and confronts Dakota and calls a family meeting. Being the cool mom on the block, Phoenix tries to freak the girls out. She's a bit crazy, but her solution is a good one, one that will at least protect them from pregnancy. Anal Sex.

Lessons in Anal start with a pro, and Phoenix sure knows her stuff. Dakota and Halle are ready for Phoenix's tips. She tells the girls to get undressed, and before long they're using their expert teen tongues to lick one another. Anal sex requires some instruction. Phoenix demonstrates first, and then lets the girls take the reins allowing them to enjoy themselves to the fullest. Playing with a pro has its rewards, but will Dakota catch on?
Categories :
Toys
,
Blonde
,
Big Tits
,
Girl on Girl
,
Threesome
,
Anal
,
Natural Tits
,
Small Tits
,
Rim Job
,
Fingering
,
MILF & Mature
,
Butt Plug
,
Older / Younger
,
Pussy Licking