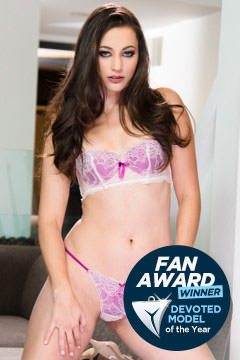 Georgia Jones
2

09-14-2019
660289
Height : 5'7"
Weight : 107
Bra Size : 32A
Measurement : 32A-26-40
hair color : Dark brown
Zodiac : Aries
Hobbies : Work, Drinking, Danger
Date Of Birth : 1988-04-04
Best Known For : Tongue
Twitter : https://twitter.com/xoGeorgiaJones
Favorite Body Part : Butt
Alternate Names : Bad Girl Jones. Jones. Jonze. Jonesy. GJ. BGJ. The Georgia
Girl of the month : GOTM July 2017
Georgia Jones's Biography :
July GOTM Georgia Jones is an adrenaline junkie who loves knocking back a Jack and Coke and getting into mischief. An active member of the Girlsway family, Georgia shares the award for Most Time Spent on the Girlsway Forum with user GrampaWW. The lesbian-only performer gushes over Girlsway's revolutionary take on lesbian erotica and dreams of seeing the AVN put lesbian performers in the Hall of Fame. She believes chemistry makes a scene successful and loves working with women who truly love women. Her celebrity fantasy is dedicated to Rihanna all the way. Her first lesbian experience happened at the tender age of 13 when she groped her best friend at a sleepover. Georgia lost her hymen at age 14 during a threeway with her first girlfriend to see what it was like. This Southern belle finds traditional home cooked meals the most romantic. She also enjoys the smell of Whiskey on the breath. Georgia is sucker for a witty woman with brains and a good sense of humor, but a pretty face will also wet her panties. Her greatest dislikes are materialism, conceit and vanity because they interfere with inner growth. Were she trapped on an island with only three items, her picks would be a knife, a Magnesium fire starter and a giant sheet of thick plastic. Among her favorite books are Lolita, Let The Right One In and The Spy Who Loved. Her favorite movies include The Professional and Dirty Dancing. Her favorite female body part is the butt.